Santa Fe Spring Travel: Native American Events
Gathering Of Nations Pow Wow: April 27, 28, 29 2017. Featuring Native American singing and dance competitions. This is North America's largest pow wow with more than 3,000 participants! Aisles of shopping and Native American foods, the best in Native Traditional and Contemporary music, Miss Indian World talent contest, Indian Traders Market and more!
---
2017 Zuni Main Street Festival– May 6, 7. 2017 marks the 5th Annual "Zuni Main Street Festival" held in New Mexico at the Zuni Pueblo and the theme is: Revitalize Zuni Pueblo's Future
"Support our local businesses, arts and community." This is a Main Street America affiliate. Visitors will enjoy Art Competitions, Traditional Dances, a watermelon eating contest, an arts market, and more. Zuni pueblo is located south of Gallup, NM- about a 3 hours west of Santa Fe and Pueblo Bonito b&b inn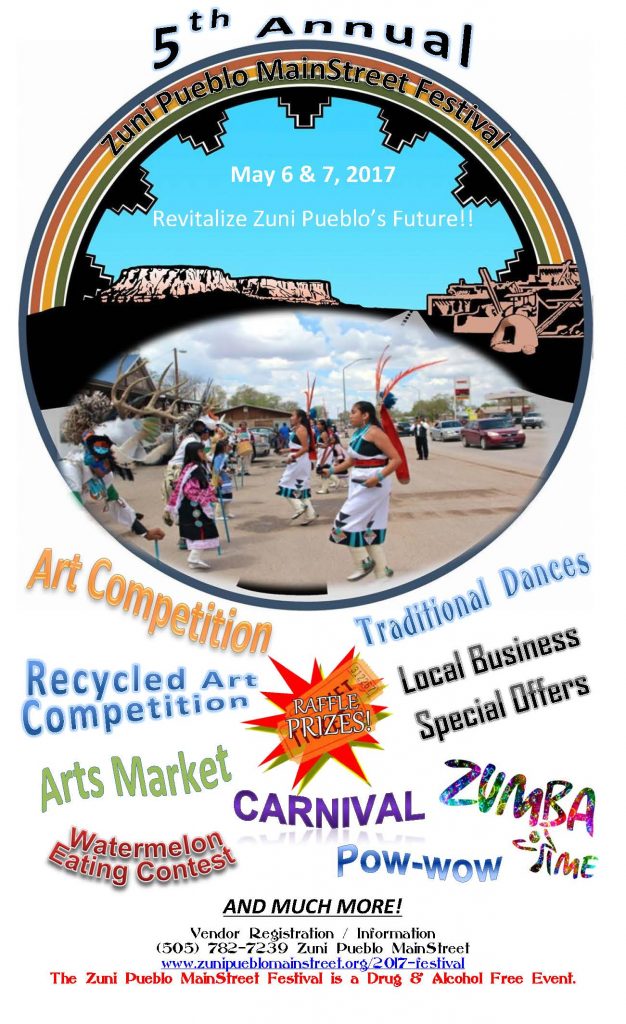 Enhance your Spring Travel to Santa Fe, NM with an experience in authentic pueblo culture and Santa Fe history! Attend one of these special events- meet the Native people of America, then surround yourself in true New Mexico living at Pueblo Bonito bed and breakfast. Why just stay in Santa Fe New Mexico when you can actually experience historic culture, architecture, cuisine and hospitality! Pueblo Bonito bed and breakfast inn- Santa Fe features 19 charming guest rooms- each surrounded in 2 ft thick adobe (mud bricks), wood beamed ceilings (vigas), historical archetictureal elements like corbels, nichos, hand formed tiles, and more! Give us a call and transform your Santa Fe Vacation into a historic New Mexico adventure experience. 1-800-461-4599
Easter in Santa Fe
Easter Holy Week in Santa Fe, New Mexico is one of the most special and holy times a visitor could experience on a Spring Visit to Santa Fe, New Mexico. Appropriately named, Santa Fe is "the city of Holy Faith" and surrounded by the Sangre de Cristos (blood of Christ) mountains- there is no others place in the USA we can think of for a special and holy Easter Travel Vacation.
When people think of Holy Week or Easter and plan to visit Santa Fe- there's no denying the top event is the Cathedral Basilica of St. Francis de Assisi Pilgrimage! The Cathedral Basilica of St Francis de Assisi Pilgrimage is also known as the Walk to Chimayo or the Pilgrimage to Chimayo. Holy Week actual begins the Saturday before Good Friday (April 14, 2017). The actual pilgrimage leaves at 6:00 AM from Sacred Heart Church in Nambe on Friday which is just 10 minutes drive north from Pueblo Bonito bed and breakfast inn- Santa Fe. The distance to walk is eight miles. Meanwhile from 9:00 AM to 10:00 AM the Secular Franciscan Order from Cathedral Basilica of St. Francis de Assisi wash the feet of the arriving pilgrims at the Sanctuario de Chimayo. The journey is to be done in silence with self reflection, the washing of feet is a welcomed yet humbling holy element presided over by Rev. Adam Lee Ortega y Ortiz. All pilgrims are welcomed.
Every day during Holy Week (April 10-14, 2017) the Sanctuario de Chimayo opens at 9:00 AM. Special events take place throughout each day. A schedule follows:
April 12, Wednesday of Holy Week
10:00 AM — Barela Senior Center Pilgrims, Albuquerque, NM
10:30 AM — Rosary
April 13, Holy Thursday
12:00 PM — Live Stations of the Cross by Youth from Our Lady of Sorrows, Bernalillo, NM
3:00 PM — Rosary by Morada de San Antonio (Cordova)
4:00 PM — Rosary by Morada de Nuestra Señora de Dolores (Chimayo)
10:00 PM — Prayer Service
Santuario is open all night
April 14, Good Friday
9:30 AM, 10:30, 11:30, etc.– Rosary and Divine Mercy Chaplet, Santo Niño Chapel
12:00 PM — Good Friday Procession
3:00 PM — Divine Mercy Novena, Santo Niño Chapel
10:00 PM — Prayer Service
Santuario is open all night
April 15, Holy Saturday
9:00 AM — Santuario opens
6:00 PM — Santuario closes
April 16, Easter Sunday
9:00 AM — Santuario opens
10:30 AM — Mass
12:00 PM — Noon Mass
1:15 PM — La Danza del Santo Niño Matachines, Albuquerque & Farmington Groups
3:15 PM — La Danza del San Judas Tadeo Matachines
4:30 PM — La Danza del Juan Diego, St. Anne's Church, Alb. NM
5:00 PM — Santuario closes
5:00 PM — Santuario closes
So…. What is a pilgrimage you might ask? Below you will find a copy of a letter written by Father Julio Gonzalez and can be found on the Sanctuario de Chimayo website. We provide it here as guidance for the definition of pilgrim.
…..I truly believe that God has a plan for all of us, that we are not here without a specific reason. I don't know God's plan for your niece, but we should tell the Lord that if He still has something for her to do here, on earth, she and her family don't reject the work.
All of us are on a pilgrimage. We have no everlasting dwelling home here. We are on a pilgrimage and on a journey of faith. To be a pilgrim means that we let God guide our footsteps; that the pilgrimage of his Son from Nazareth to Jerusalem inspires our own pilgrimage. His teachings enlighten our lives, his suffering gives us courage, his faith gives us hope, his love brings us to life.
For us "time" means a lot, but for God "time" means nothing ("One thousand years are like a second, one second is like a thousand years", Book of Psalms). Still this is a mystery for us, but the pilgrim is closer to this mystery because he tries to see the world with God's eyes. Then, the world and our lives take on a new light where death has no power over us. Saint Francis called death "sister Death".
My advice is this:
FIRST: Start your pilgrimage with a prayer. In your prayer call God, your Father. Actually He is waiting for you. Then, acknowledge your weaknesses and flaws. Entrust your deeper longings to Him. Entrust your niece to Him. Ask the Lord to reveal His will during this pilgrimage. If you cannot understand Him, how can you be faithful to Him? But, remember, you will only understand God with your heart and this heart must be emptied before God sends His grace upon you. The pilgrimage will help you to empty your heart of anything that is not of God.
SECOND: During the pilgrimage, offer God your tiredness, hunger, suffering, pain. In the same way that Jesus, His Son, suffered for us, tell God that the purpose of your sacrifice is your niece's healing. You should fast from anything that is not water and bread (eat and drink only bread and water). Fasting pleases God because you become sharper, stronger, unafraid… The purpose of fasting is not to weaken your body, but to strengthen your will and, thus, your body.
THIRD: But you don't want to tempt your God. Don't act like Satan when Jesus went to the desert: if you are the Son of God then do this, do that… Your prayer should be Jesus' prayer at Gethsemane: "Not my will, but Yours…"
I hope this will help you.
God bless you,
Rev. Julio Gonzalez, SF.
——————–
Contact for Information on Cathedral Basilica of St Francis de Assisi Pilgrimage HERE.
Our Mixology Santa Fe Experience
As if there's not enough to see, do, enjoy or experience on your next Santa Fe, New Mexico May Travel trip….. we recently took the opportunity to experience the newest in Santa Fe culinary art classes: "Mixology"! Our Mixology Experience took place at Sunrise Springs in their Willow Horticulture Kitchen. Santa Fe Spirits Mixologist James Reis was our expert mixologist and provided a truly lovely experience! During our mixology class, he lead us in creating our own garden-to-glass drinks infused vodka or gin with garden herbs grown on site at Sunrise Springs- very cool! Libations mixed included lemon verbena, pineapple mint, apple mint, green chile, rosemary and more. Our tastings were complimented by some delectable appetizers compliments of Chef Durham of the Blue Heron Restaurant located on site of Sunrise Springs Spa! This unique and fun experience totaled $50 for a couple or $35 for single for the class, dinner was additional and well worth it!
We felt our experience was more of an adventure with the scenic drive south of Santa Fe to Sunrise Springs and all. Always a treat to drive to sites close by- then to enjoy the serene quiet grounds, immaculate landscaping of beautiful ponds, flowering vegetation, large shade trees spotted with an occasional rope swing and waterfall which source is years old natural spring feeding the property. Our view enjoyed tableside after tastings and during dinner afterward was also very pleasant. Rumor has it beginning in May a garden-to-glass wine cocktails and non-alcoholic infusions and mock tails will be available! Currently no schedule has been provided. May Santa Fe travelers will just have to keep this fun New Santa Fe to do suggestion in mind so when you arrive we'll be able to help you in your exploration planning (which we are well known for)! There's always something fun to do in Santa Fe- just ask the folks at Pueblo Bonito bed and breakfast inn! Voted Santa Fe's "Guest Favorite b&b" from over 2800 properties throughout the US and Canada 3 consecutive years in a row! Make your Reservations NOW to enjoy a true historic Santa Fe May Travel experience with us at Pueblo Bonito bed and breakfast inn!