Santa Fe Spring Travel: Native American Events
Gathering Of Nations Pow Wow: April 27, 28, 29 2017. Featuring Native American singing and dance competitions. This is North America's largest pow wow with more than 3,000 participants! Aisles of shopping and Native American foods, the best in Native Traditional and Contemporary music, Miss Indian World talent contest, Indian Traders Market and more!
---
2017 Zuni Main Street Festival– May 6, 7. 2017 marks the 5th Annual "Zuni Main Street Festival" held in New Mexico at the Zuni Pueblo and the theme is: Revitalize Zuni Pueblo's Future
"Support our local businesses, arts and community." This is a Main Street America affiliate. Visitors will enjoy Art Competitions, Traditional Dances, a watermelon eating contest, an arts market, and more. Zuni pueblo is located south of Gallup, NM- about a 3 hours west of Santa Fe and Pueblo Bonito b&b inn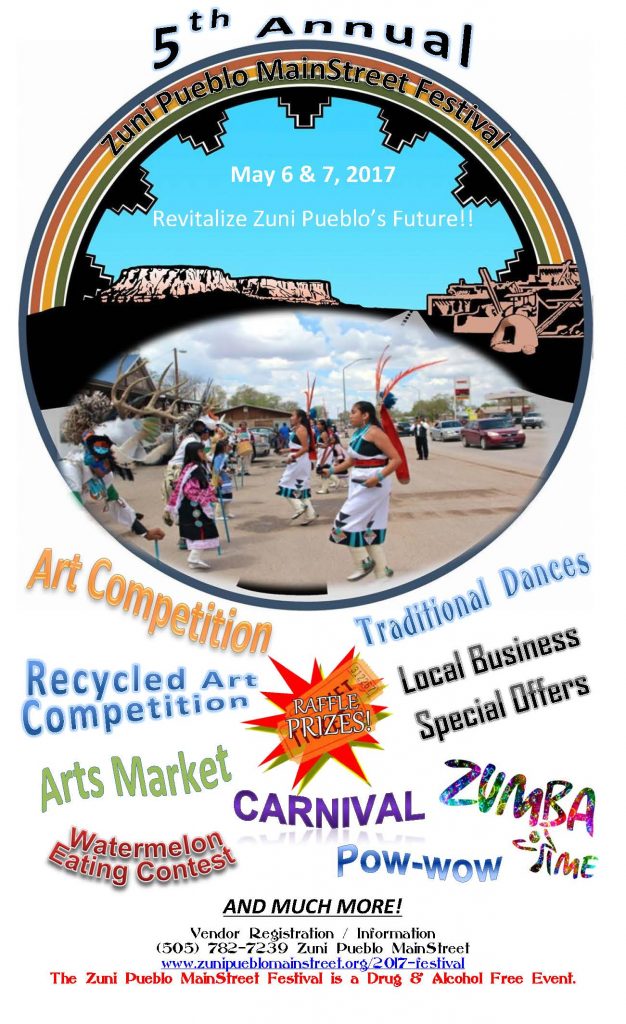 Enhance your Spring Travel to Santa Fe, NM with an experience in authentic pueblo culture and Santa Fe history! Attend one of these special events- meet the Native people of America, then surround yourself in true New Mexico living at Pueblo Bonito bed and breakfast. Why just stay in Santa Fe New Mexico when you can actually experience historic culture, architecture, cuisine and hospitality! Pueblo Bonito bed and breakfast inn- Santa Fe features 19 charming guest rooms- each surrounded in 2 ft thick adobe (mud bricks), wood beamed ceilings (vigas), historical archetictureal elements like corbels, nichos, hand formed tiles, and more! Give us a call and transform your Santa Fe Vacation into a historic New Mexico adventure experience. 1-800-461-4599
Easter in Santa Fe
Easter Holy Week in Santa Fe, New Mexico is one of the most special and holy times a visitor could experience on a Spring Visit to Santa Fe, New Mexico. Appropriately named, Santa Fe is "the city of Holy Faith" and surrounded by the Sangre de Cristos (blood of Christ) mountains- there is no others place in the USA we can think of for a special and holy Easter Travel Vacation.
When people think of Holy Week or Easter and plan to visit Santa Fe- there's no denying the top event is the Cathedral Basilica of St. Francis de Assisi Pilgrimage! The Cathedral Basilica of St Francis de Assisi Pilgrimage is also known as the Walk to Chimayo or the Pilgrimage to Chimayo. Holy Week actual begins the Saturday before Good Friday (April 14, 2017). The actual pilgrimage leaves at 6:00 AM from Sacred Heart Church in Nambe on Friday which is just 10 minutes drive north from Pueblo Bonito bed and breakfast inn- Santa Fe. The distance to walk is eight miles. Meanwhile from 9:00 AM to 10:00 AM the Secular Franciscan Order from Cathedral Basilica of St. Francis de Assisi wash the feet of the arriving pilgrims at the Sanctuario de Chimayo. The journey is to be done in silence with self reflection, the washing of feet is a welcomed yet humbling holy element presided over by Rev. Adam Lee Ortega y Ortiz. All pilgrims are welcomed.
Every day during Holy Week (April 10-14, 2017) the Sanctuario de Chimayo opens at 9:00 AM. Special events take place throughout each day. A schedule follows:
April 12, Wednesday of Holy Week
10:00 AM — Barela Senior Center Pilgrims, Albuquerque, NM
10:30 AM — Rosary
April 13, Holy Thursday
12:00 PM — Live Stations of the Cross by Youth from Our Lady of Sorrows, Bernalillo, NM
3:00 PM — Rosary by Morada de San Antonio (Cordova)
4:00 PM — Rosary by Morada de Nuestra Señora de Dolores (Chimayo)
10:00 PM — Prayer Service
Santuario is open all night
April 14, Good Friday
9:30 AM, 10:30, 11:30, etc.– Rosary and Divine Mercy Chaplet, Santo Niño Chapel
12:00 PM — Good Friday Procession
3:00 PM — Divine Mercy Novena, Santo Niño Chapel
10:00 PM — Prayer Service
Santuario is open all night
April 15, Holy Saturday
9:00 AM — Santuario opens
6:00 PM — Santuario closes
April 16, Easter Sunday
9:00 AM — Santuario opens
10:30 AM — Mass
12:00 PM — Noon Mass
1:15 PM — La Danza del Santo Niño Matachines, Albuquerque & Farmington Groups
3:15 PM — La Danza del San Judas Tadeo Matachines
4:30 PM — La Danza del Juan Diego, St. Anne's Church, Alb. NM
5:00 PM — Santuario closes
5:00 PM — Santuario closes
So…. What is a pilgrimage you might ask? Below you will find a copy of a letter written by Father Julio Gonzalez and can be found on the Sanctuario de Chimayo website. We provide it here as guidance for the definition of pilgrim.
…..I truly believe that God has a plan for all of us, that we are not here without a specific reason. I don't know God's plan for your niece, but we should tell the Lord that if He still has something for her to do here, on earth, she and her family don't reject the work.
All of us are on a pilgrimage. We have no everlasting dwelling home here. We are on a pilgrimage and on a journey of faith. To be a pilgrim means that we let God guide our footsteps; that the pilgrimage of his Son from Nazareth to Jerusalem inspires our own pilgrimage. His teachings enlighten our lives, his suffering gives us courage, his faith gives us hope, his love brings us to life.
For us "time" means a lot, but for God "time" means nothing ("One thousand years are like a second, one second is like a thousand years", Book of Psalms). Still this is a mystery for us, but the pilgrim is closer to this mystery because he tries to see the world with God's eyes. Then, the world and our lives take on a new light where death has no power over us. Saint Francis called death "sister Death".
My advice is this:
FIRST: Start your pilgrimage with a prayer. In your prayer call God, your Father. Actually He is waiting for you. Then, acknowledge your weaknesses and flaws. Entrust your deeper longings to Him. Entrust your niece to Him. Ask the Lord to reveal His will during this pilgrimage. If you cannot understand Him, how can you be faithful to Him? But, remember, you will only understand God with your heart and this heart must be emptied before God sends His grace upon you. The pilgrimage will help you to empty your heart of anything that is not of God.
SECOND: During the pilgrimage, offer God your tiredness, hunger, suffering, pain. In the same way that Jesus, His Son, suffered for us, tell God that the purpose of your sacrifice is your niece's healing. You should fast from anything that is not water and bread (eat and drink only bread and water). Fasting pleases God because you become sharper, stronger, unafraid… The purpose of fasting is not to weaken your body, but to strengthen your will and, thus, your body.
THIRD: But you don't want to tempt your God. Don't act like Satan when Jesus went to the desert: if you are the Son of God then do this, do that… Your prayer should be Jesus' prayer at Gethsemane: "Not my will, but Yours…"
I hope this will help you.
God bless you,
Rev. Julio Gonzalez, SF.
——————–
Contact for Information on Cathedral Basilica of St Francis de Assisi Pilgrimage HERE.
Our Mixology Santa Fe Experience
As if there's not enough to see, do, enjoy or experience on your next Santa Fe, New Mexico May Travel trip….. we recently took the opportunity to experience the newest in Santa Fe culinary art classes: "Mixology"! Our Mixology Experience took place at Sunrise Springs in their Willow Horticulture Kitchen. Santa Fe Spirits Mixologist James Reis was our expert mixologist and provided a truly lovely experience! During our mixology class, he lead us in creating our own garden-to-glass drinks infused vodka or gin with garden herbs grown on site at Sunrise Springs- very cool! Libations mixed included lemon verbena, pineapple mint, apple mint, green chile, rosemary and more. Our tastings were complimented by some delectable appetizers compliments of Chef Durham of the Blue Heron Restaurant located on site of Sunrise Springs Spa! This unique and fun experience totaled $50 for a couple or $35 for single for the class, dinner was additional and well worth it!
We felt our experience was more of an adventure with the scenic drive south of Santa Fe to Sunrise Springs and all. Always a treat to drive to sites close by- then to enjoy the serene quiet grounds, immaculate landscaping of beautiful ponds, flowering vegetation, large shade trees spotted with an occasional rope swing and waterfall which source is years old natural spring feeding the property. Our view enjoyed tableside after tastings and during dinner afterward was also very pleasant. Rumor has it beginning in May a garden-to-glass wine cocktails and non-alcoholic infusions and mock tails will be available! Currently no schedule has been provided. May Santa Fe travelers will just have to keep this fun New Santa Fe to do suggestion in mind so when you arrive we'll be able to help you in your exploration planning (which we are well known for)! There's always something fun to do in Santa Fe- just ask the folks at Pueblo Bonito bed and breakfast inn! Voted Santa Fe's "Guest Favorite b&b" from over 2800 properties throughout the US and Canada 3 consecutive years in a row! Make your Reservations NOW to enjoy a true historic Santa Fe May Travel experience with us at Pueblo Bonito bed and breakfast inn!
With Spring Travel plans ahead, New Mexico offers Santa Fe Spring Travelers 26 Scenic Byways covering 3,531 miles of scenic roads, astounding opportunities to view gorgeous geography, diverse cultures, fascinating history, and amazing recreational options! One lesser known Santa Fe Spring day trip is an excellent choice for anyone looking to take advantage of the beauty of springtime, and the great outdoors. A day trip to Purple Adobe Lavender Farms is our suggestion (though it can be enjoyed summer and fall too). This Santa Fe Day Trip takes about an hour to get to the destination, does not charge for entry, and is located in the beautiful sleepy village of Abiquiu, NM! Guests of Pueblo Bonito bed and breakfast Santa Fe might also like to consider combining other previously provided spring travel day trips as described in our blogs – click HERE to search.  But for now, we'll focus on:
Purple Adobe Lavender Farms. A truly idyllic farm located just outside of Abiquiu, NM in the Chama River Valley – also known as Georgia O'Keeffe county! The picturesque private farm has fields and fields of light purple hues of organically grown lavender with permeating sweet pungent scents. The absolute tranquil setting also has trails leading to the Chama river (adorned with large cottonwoods shade trees) definitely creating a calming sense of peacefulness and ease.
Video compliments of New Mexico Tourism.
The farm established in 2004 is a kind of business/school providing assistance to people growing and possibly selling their own lavender and lavender products.  Lavender is best known for its  essential oils which are marketed to aid in the relief of pain and inflammation. Lavender is also credited with treating anxiety, insomnia, and depression. So…. out in the fields of Purple Adobe Lavender Farm, where over 2,500 types of lavender plants have been carefully and intentionally planted, a unique truly tranquil setting has been created. These lavender plants are grown at a higher altitude than most and thus, produce a finer, sweeter grade of lavender oil which fills the air with a pungent indescribable lovely scent. The farm is open only by reservation- so call ahead to reserve your time. More festive times begin in July when the owners, Elizabeth and Roger Inman host their annual Lavender in the Valley Festival. This unique and fragrant festival is host to bands, gelatos, truffles, teas, and vendors of all things lavender! Might be something you'd consider putting on your Santa Fe July Vacation travel calendar- don't you think!
As always we hope you enjoy your New Mexico travel adventure- compliments of Pueblo Bonito bed and breakfast inn Santa Fe. Your local expert in Santa Fe travel and visitor information. 1-800-461-4599. Why Stay in Santa Fe when you can experience it's unique history with us? Book Direct & Save.
With 500+ bird species on New Mexico's state bird list, Santa Fe Spring Travel is one of the best for Birders!
Springtime and Birds are magical! Combine the two to create an inspirational Spring Santa Fe birdwatching trip for all ages to remember. Springtime not only brings migration of birds to and through New Mexico, it inspires and motivates people into action. There's just something magical about a rare, beautiful bird which engages a person in our natural world. Whether our Santa Fe visitors are exploring a nearby New Mexico's National Monument, or hiking a remote canyon, or intentionally seeking out a festival or special event, springtime is a special time to avail unique, one of a kind travel opportunities. Have you ever thought about birding? Well, if you have you'd know that birding is the perfect love affair with feathered friends, with nature, and with conservation! Guests of Pueblo Bonito bed and breakfast who over the past 32 spring seasons have visited many of the sites listed below and not only enjoyed the places but appreciated the birds as well! We hope this information will add to your Santa Fe Spring Travel enjoyment as well!
To provide the most informative information on this subject, we've consulted the experts- the staff at Audubon New Mexico! Audubon New Mexico tell us, "Favorite birding sites can be somewhat personal choices. We suggest these following locations for Santa Fe Spring travel birding visitors":
Orilla Verde Recreation Area – located north of Santa Fe, just one mile past the turnoff at Pilar along the Rio Grande and extending up the river is an excellent viewing area. A BLM visitor center on NM68 is located across the road from the village of Pilar as well. This area is excellent viewing as bird habitats include the river, associated willows and tamarisk, mature cottonwood groves (especially at the campgrounds), numerous seeps and springs along the canyon walls, pin?on, and rim rock. Bullock's Oriole can be spotted in the spring and summer as well as the Pin?on Jay, Canyon Wren, Rock Wren, and Bushtit all year. The area is known to have Dipper all year and has had breeding Golden Eagle and Peregrine Falcon!
The Sangre de Cristo Audubon Society chapter is based in the Santa Fe and Los Alamos area. They point out many great birding hot spots, but Hyde State Park and Road and the Santa Fe Ski Basin capture the interest of many. The extended area near Hyde State Park and along the trails off the road to the ski area includes several hiking options, each of which has birding opportunities. Williamson's Sapsucker's (breeding), Hammond's and Cordilleran Flycatchers, Western Tanagers, Nuthatches (Red and White-breasted, Pygmy), Mountain Chickadees, Steller's Jays, and Western Warblers are some of the species anticipated within the Black Canyon campground and trails. Further up Hyde Park Road, Blue Grouse are sometimes seen at elevations between the Borrego Trail to the ski basin.
The Santa Fe Ski Basin has a great trailhead for those who want to venture into the high mountain back country. Species expected include Hermit Thrush, House Wren, Junco, Cordilleran Flycatcher, Lincoln's Sparrow, Gray Jay, and Clark's Nutcracker.
Randall Davey Audubon Center is where a wide variety of birds reside and visit during migration.
It's less than a mile from Pueblo Bonito bed and breakfast– an easy drive up upper Canyon Rd and just east of downtown Santa Fe. Nestled at the mouth of the Santa Fe Canyon, the Randall Davey Audubon Center encompasses 135 acres and includes miles of hiking trails, a nature store, and the historic home of artist Randall Davey. Favorites on the Audubon's grounds include the Spotted and Canyon Towhee, Hairy Woodpecker, Lesser Goldfinch, and Black-headed Grosbeak. Typical birds found are hummingbirds, nuthatches, juncos, warblers, woodpeckers, jays, and chickadees. The plant community along the Santa Fe River bottom provides a home to towhees, goldfinches, vireos, robins, and others. A special treat of the Randall Davey Audubon Center are the free guided bird walks on Saturday mornings at 8:30 am! A favorite "to do" suggestion of ours at Pueblo Bonito bed and breakfast inn. For more information on birding New Mexico Santa Fe Spring Travel Santa Fe lodging please click visit our past birding BLOG
Pueblo Bonito bed and breakfast inn– Santa Fe's Most Authentic, Historic Adobe Pueblo- bed and breakfast shares it's history, traditional New Mexico culture and gracious hospitality for 32 years to Santa Fe travelers providing that one of kind historic travel experience like non other. This 156 yr old historic Santa Fe bed & breakfast inn continues a rich New Mexico lodging tradition of the past. Taking the name of the intriguing archaeological site "Pueblo Bonito" of Chaco Canyon in the San Juan Basin of New Mexico, our enchanting downtown Santa Fe, New Mexico vacation lodging destination is a two story, two-and-a-half foot thick adobe pueblo architecturally accurate compound made up of three separate buildings and having a total of 19 Santa Fe lodging rooms! All 3/4 of an acre is surrounded by a massive adobe wall with quaint adobe archways, hand forged wrought iron fences and flagstone steps leading to the downtown streets of Santa Fe.
Pueblo Bonito bed and breakfast inn- Santa Fe was giv
en its name over 87 years ago by Mr. Al Kempineck who purchased the highly sought after massive adobe pueblo-style compound from then prominent U.S Federal Court Judge John McFie in the early 1930's. Judge McFie served the U.S. Court system from early 1860 to well into the mid 1900's and was a very respected and well to do gentleman. He was assigned to the Southwest Texas Territory (which included West Texas and all of New Mexico) prior to New Mexico becoming a state in 1912. During his term, many noteworthy southwestern outlaws showed up on the scene, such as Doc Campbell, Billy the Kid, and Pancho Villa to mention only a few. Judge McFie had made for himself a comfortable and fine estate- with a large one story private home boasting high ceilings, separate servant quarters, separate horse stables, and native horno (bread oven). All were made from hand formed adobe bricks creating walls 2 to 2.5 ft thick! When viewing this amazing two-story adobe pueblo-style estate with its distinctive pueblo adobe architecture, Mr. Kemenick fell in love with it. His motivation was to re-create a community style property resembling that of the original Pueblo Bonito in Chaco Canyon. He envisioned a small community of people dwelling together, sharing their daily lives as friends and neighbors, thus the conversion into apartments! Just like the Pueblo Bonito of old (except with indoor plumbing, modern comforts and kiva fireplaces)!
Due to its prime location (in historic downtown Santa Fe, NM just a stone's throw away from the New Mexico State Capital building), and comfortable spaces, Pueblo Bonito provided varied necessary services to Santa Fe artists, politicians and community members. Rent as low as $35/month, Pueblo Bonito served as home to many colorful people of the day, some of which are now famous such as Hilare Hiler- southwestern artist. There were non-famous folk as well, such as George Sanders who lived with his family at Pueblo Bonito while serving in Los Alamos as personal bodyguard to Robert Oppenheimer, head physicist of the Manhattan project (see pictures). Ladies of the evening were known to keep house at Pueblo Bonito in earlier days providing services for gentlemen coming in on the Santa Fe Railroad. Even a neighborhood market conducted business out of our San Ildefonso (#20) room as it was located closer to Galisteo Street.
In the 1970's the property changed hands again, but kept it's occupancy as apartments. Better known as "starving" artists apartments (which at that time inhabited much of Santa Fe), an unknown artist who could not make rent one month left behind three murals upstairs on the indoor hallway next to Isleta (#10) and Santa Ana (#9). These murals have been well preserved and boast the original content depcitions of Native American culture we celebrate still today!
In 1986, a young newly wed couple residing in Dallas, Texas began this popular Santa Fe bed & breakfast we now know as Pueblo Bonito Inn. Herb and Amy Behm at a ripe young age of 28 and 24 decided to make a go of it. With background in franchise location and business management and a degree from Georgetown College, Herb took to providing Santa Fe accommodations beautifully! Amy, a recent graduate of Southern Methodist University and originally from Santa Fe, NM shared her background in marketing and sales with a bachelors of business degree.
Together, the Behm's worked side-by-side learning the business of B&B innkeeping. With no other employees but themselves for the first year of business and only 12 rooms (now 19) with breakfasts served to the rooms (not like today with a communal room) the learning curve was great. Their goal was then and still is to provide a relax, welcoming and comfortable atmosphere that provides the true character of Pueblo Bonito at an affordable price, while always desiring a return visit from each of their satisfied guests.
The challenge presented by such a unique, historic property has demanded constant tender loving care due to it's age and Herb and Amy's desire to keep its authenticity as a prime Southwestern property in the heart of charming, historic downtown Santa Fe. Over the past 32 years, the bed & breakfast inn has had several face lifts from adding showers, to replacing clay plumbing pipes, completely overhauling the communal area, to replacing the original antique kitchen units in rooms with usable new vanities, to placing phones, adding air conditioners, refrigerators and WiFi for each room, as well as redoing the quaint brick pathways, getting a brand new kitchen for breakfast and afternoon tea service, and lighting the outdoor areas adding to the overall Historic Santa Fe Travel Experience!
Through these growth spurts, we have received numerous encouragements from our guests, support from our community and numberous awards from our industry such as:"Best Preservation Renovation for Historical Significance" in 1988 – Santa Fe Historical Society; "Best of Santa Fe" for Accommodation in 1995- Reporter"; 2nd in "Best of Santa Fe" for Bed and Breakfast 2000- Reporter; Featured in Sunset Magazine "Snowy in Santa Fe" article Jan '04 issue as well as the Santa Fean Magazine article "10 Best Santa Fe Accommodation" March '04 issue; 2005 "Outstanding Inn of the Southwest"- bedandbreakfast.com; "Top Lodging" for Santa Fe- Sunset Oct '10 issue; 2011, 2012, 2016 "Guest Favorite" bnbfinder.com; 2013, 2014, 2015 "Most Likely to Return" bnbfinder.com "Excellent" TripAdvisor 2011-16. Being named after such a wondrous historic site as Pueblo Bonito in Chaco Canyon, Pueblo Bonito Bed & Breakfast Inn has had a big plate to fill. However, it appears that this quaint little Santa Fe B&B nestled in the heart of the old southwest, is indeed holding its own and has been a true delight to many of it's patrons over the past 32+ years.
Or call 1-800-461-4599 for personal service
Gift Certificates Available
Back to Main Rooms & Rates Page
Turquoise Trail – Santa Fe to Albuquerque Sunport in half a day or so (depends upon the amount of time you want to spend!).
Head South from Santa Fe on NM 14 toward the village of Cerrillos. On your journey down the Turquoise Trail (aka NM14)- deemed a National Scenic ByWay- you'll enjoy the serenity of  beautiful New Mexico nature. Just before Cerrillos, NM, off to the left, you'll see a 3 acre sculpture garden in the middle of nowhere with huge origami sculptures- though very odd in way- really beautiful. The Turquoise Trail Sculpture Garden is a private residence nestled in what is now called the Little Garden of the Gods on Highway 14.  Towering rock formations encompass the sculpture garden, as visitors meander through the distinct southwest landscapes which create a dramatic backdrop for this exhibition.  Kevin Block (artists) contracts the relationship between white clouds and the predominately white artwork to evoke a sense of lightness and peace. A fun stop on this Santa Fe Spring Travel day trip from Santa Fe. This exhibit runs May-October (visit their website for more information).
Climb back into your car as you're just a short distance from Cerrillos. Cerrillos, NM is an interesting little stop (or drive thru) which consist of 59 family units per 2000 census and a total land mass of 1.4 sq. miles. It's appearance is more of an abandoned movie set (though the movie "Young Guns" filmed in this area- it's not abandoned) and offers visitors the opportunity to stop at the Mine Museum and petting zoo. More recently, buildings within this sleepy community have received plaques with historic information to document and provide visitors with understanding as to the significance this old west mining town played in US history. Continue down the Turquoise Trail (NM 14) toward Madrid, NM enjoying the winding paved scenic byway and natural beauty accentuated by the pristine blue skies of New Mexico. Madrid is always a fun place to stop for a visit and compliments Cerrillos, NM well as Madrid is nestled in the Ortiz Mountains within a narrow canyon. Madrid was once a booming coal mining town founded in 1895 by the Cerrillos Coal Mining Companies. When demand for coal withered around 1954, natural gas gradually replaced coal and the Cerrillos Coal mines ceased to operate leaving residents in need of new employment. Most residents moved away creating a ghost town for several years.
Madrid was rediscovered in the early 1980's when many east coast artists transplants to New Mexico discovered this sleepy little town and found land prices to be a steal! Madrid, NM is now a creative community with over 40 shops and galleries, several restaurants, a spa and museum. We love a stop off for an afternoon bite at the Mine Shaft Tavern and Museum- great green chile cheese burgers! As you continue down the Turquoise trail, you'll find  Golden just before connecting to I-40.  In 1825, Golden, NM was the site of the first gold rush west of the Mississippi, before the California and Colorado gold rushes. Originally called Real de San Francisco, around 1880 several large mining companies moved in and changed the name to Golden.
The yield was disappointing and the population dwindled. Mining is all but gone from the area, but Golden survives as an active rural community today. Next on the Turquoise Trail as you travel north you'll see the Sandia Mountains and Cibola National Forest, a scenic and recreational paradise full of outdoor activities including bicycling, hiking, horseback riding, climbing and skiing. This beautiful area is home to a diverse collection of animals and plants; and birdwatchers come from around the world to witness the hawk and eagle migrations. From mid November through March three species of Rosy Finch call Sandia Crest home, making the area an ideal destination for bird-watchers. Just outside the community of Sandia Park, along the Sandia Crest National Scenic Byway, you'll find Tinkertown Museum, a collection of one man's life work that includes a hand carved animated miniature western town and a three-ring circus. Follow the Byway also called the "Crest Road", through the beautiful Cibola National Forest. During the drive you'll see incredible vistas and pass through five different life zones. The next stop is Cedar Crest, home to the Museum of Archaeology & Material Culture, where you can explore the story of North America's earliest inhabitants. These mountains also boast an archaeological continuum of human activities from the end of the last Ice Age through the present. Tijeras is the exit from the Turquoise Trail and the bustling mountain communities along its path now join I-40 toward Albuquerque. Two canyons come together here and the area was first inhabited by pueblo Indians. Stop here at the Cibola National Forest office for information and brochures and visit the Tijeras Pueblo Archaeological Site. I-40 will take you west toward Albuquerque which will intersect with I-25 which takes you to the Albuquerque Sunport. This is a great alternative route to taking I-25 straight from Santa Fe to Albuquerque on a return home travel day. Folks with later in the day flights out of the Albuquerque Sunport might appreciate this route. Regardless the route, we sincerely appreciate the time you took touring and visiting Santa Fe, New Mexico and Pueblo Bonito bed and breakfast inn. We hope you enjoyed your time with us and appreciated our 156+ yr old historic adobe pueblo style accommodations located in a quiet prime downtown location- walk to restaurants, shops, galleries, historic sites and more from our front door step!! We invite Santa Fe travelers to give us a call when preparing your next visit to historic Santa Fe, NM! 1-800-461-4599   www.pueblobonitoinn.com
Santa Fe Day Trip to the Jemez Mountain Trail
Jemez Mountain Trail Directions – Follow US 84/285 north toward Pojoaque, then NM 502 west toward Los Alamos. NOTE: You will be going through several Northern New Mexico pueblo lands. First of which is the Tesuque Pueblo, next is the Pojoaque pueblo. When turning onto NM 502, you'll pass  the Santa Clara pueblo (home to Puye Cliff Dwellings). San Ildefonso pueblo is off to your left on 502 as you pass by the exit to Bandelier  National Monument. NOTE: San Ildefonso Pueblo is home of Maria Martinez – famous black on black pot tress. Reserve a day tour to Bandelier National Monument for another day (but we highly recommend this fabulous place) when visiting Santa Fe as we prefer packaging Bandelier and San Ildefonso together on their own trip. You have so much to explore if following our suggestions through the Jemez mountain tour!
Continue on 502 into Los Alamos – we suggest a stop at Fuller Lodge Art Center and the Bradbury Science Museum. Both are close to each other and provide interesting facts and background information on World War II's Manhattan project as well as highlights of Los Alamos National Labs research.
Get back into the car and head to NM 4 toward the Valles Calderas. It's estimated that 1.25 million years ago, a spectacular volcanic eruption created the 13-mile wide circular depression now known as the Valles Caldera.  This now nature preserve is known for its huge mountain meadows, abundant wildlife, and meandering streams. The area also preserves the homeland of ancestral native peoples and embraces a rich ranching history. Exit off to the right for a quick stop at the ranger station which offers restrooms and interesting information and books for purchase. What might you see at Valles
Caldera you might ask? Well, the second largest elk population in New Mexico is home to this preserve. Other native residents include Gunnison prairie dogs, coyotes, badgers, black bears, Eastern mountain bluebirds, and golden eagles! Who knows what you'll get an eye of on this once in a lifetime trip through the Jemez Mountain Trail!
Habitat preferences and seasonal cycles of movement determine, in a general sense, where a particular animal may be at a particular time. Early morning and evening hours are when animals tend to be feeding and thus are more easily seen. But remember that the numbers and variety of animals you see are largely a matter of luck and coincidence.
Continue on through some of the most vibrant and colorful mountain landscapes you'll ever see in New Mexico until you arrive at the town of Jemez Springs. Here you can can soak your cares away in a public tub at the bathhouse built during the Victorian era. It's a funky little village full of nice folks providing a perfect stopping spot to stretch your legs, take a photo and grab a quick refreshment.  As you continue NM 4 you will find the Jemez State Monument – now this is the place to stop! A site of covered in magnificent ancient Indian ruins with the Jemez Pueblo's Walatowa Visitor Center telling the story of the site and it's ancestors, their way of life, struggles and tenacity. Bring your camera as you'll see an authentic Indian Horno, the historic Jemez church ruins boasting massively thick adobe wand river rock walls (5 ft thick), a real kiva (ceremonial underground gathering area) which you can actually climb down into!  It's deep and gives you a thrill! No photography inside Kiva. This is something special as outsiders are not allowed into a kiva on any inhabited Native American Pueblo that we're aware of.
So after exploring the Jemez State Monument, you might think that's it! No way….. we still have the Gilman Tunnels! Exit 485 toward the Gilman Tunnels. You'll wind around a paved road through incredible natural scenery, a canyon with vivid earth tone colors, sharp rock formations, which follows the Jemez River through this canyon to the tunnels! Gilman Tunnels were made for logging trucks to get loads down the mountains into nearby villages, towns, etc.  Enjoy the views as you drive and keep watch as you won't want to miss a rock climber traversing the side of a cliff or mountain biker challenging themselves up this steep road into one of the most truly lovely areas of Northern New Mexico! It's definitely something you don't want to miss and should be planned to be seen during daylight hours. It's one of our "favs" of all time while touring the Jemez Mountain trail from Santa Fe.
Take plenty of photos! When finished, climb back into the car and backtrack toward NM 4 (the way you came). Continue the same direction on NM 4 to NM 44 and drive south toward Bernalillo.  From Bernalillo head to I-25 S toward Santa Fe. Timewise you have about 45 minutes to get back into Santa Fe, then about 10 minutes after exiting onto Old Pecos Trail to return home to Pueblo Bonito b&b inn! It's been quit a trip- one you'll be glad you made and will remember forever fondly. We  highly recommended this Jemez Mountain day trip for return visitors- folks who've already explored the unique and historic culture that Santa Fe offers. This is perfect for Santa Fe return travelers who desire to do something completely different than they've done on previous Santa Fe travel visits. We hope you've enjoyed this day long tour as you should note- it's best to get an early start! We hope you'd plan on joining us for breakfast at 8:00 am the day of this planned day trip and
enjoy a hearty breakfast of red chile pork tamales and green chile chicken stew! Two popular favorites of the guests of Pueblo Bonito b&b inn- Santa Fe. Breakfast begins at 8:00 am sharp served with warm authentic New Mexico hospitality at Pueblo Bonito b&b inn – just the way you want to begin this exciting and memorable Jemez Mountain day tour from Santa Fe New Mexico. If you're a reading this blog and making plans for Santa Fe travel, we invite you to give our 156 yr old historic adobe pueblo bed and breakfast a try! Pueblo Bonito bed and breakfast has served thousands of Santa Fe travelers for over 32 years and have a great track record for returning guests. In fact, our inn was voted "Guest Favorite" out of 2800 properties by over 18,000 visitors from the US and Canada! Authentic historic Santa Fe lodging with a sincere welcoming atmosphere, reflective of our unique cultures, traditions and history of the old southwest. 1-800-461-4599. We hope you enjoyed this blog and hope to see you soon!
Day Trips around Santa Fe are highly recommended to guests of Pueblo Bonito bed and breakfast inn Santa Fe. We emphasize the need for  new comers to first to explore and acclimate themselves to the City Different (Santa Fe). It's history rich museums and cultural sites, beautiful art, world  class galleries and shops,  interesting people and of course the uniquely distinctive cuisine are what make Santa Fe, New Mexico's travel destination. Guests of Pueblo Bonito bed and breakfast inn Santa Fe can occupy vacation time for 3 months straight with suggestions by our staff to see and experience inside the City and outside by use of day trips around Santa Fe.  As I write this, we are in mid-winter with Spring travel just around the corner. This sequence of day trips around Santa Fe blogs are perfect for anytime of year. This particular writing was meant for suggestions on cold day to encourage driving exploration but also great for spring break and spring break family travelers! So please don't limit your day trip fun in and around Santa Fe New Mexico to just Santa Fe Winter Travel or New Mexico Spring Break travel- enjoy any time of year!
Santa Fe Trail– Leave Pueblo Bonito bed and breakfast inn, travel south on historic Old Santa Fe trail (turns into Old Pecos trail) to I-25. Head North and exit at "Pecos" then go northeast through Glorietta pass (NOTE:  civil war battle fought here- marker and historic adobe fort viewable along route). Follow signage to Pecos National Historical park to view Pecos Pueblo ruins and Spanish mission church along with some spectacular New Mexico natural beauty. The Pecos wilderness is a fun addition to this day trip as fishing is
ideal. If you head north toward Cowels NM you'll pass a fish hatchery as well as Dalton Canyon (remember that name? Dalton- the gang of outlaws associated with Billy the kid.) Going to Cowels will take you off Santa Fe Trail, but is an alternative day trip to broadened the adventure travel experience we offer to guests of Pueblo Bonito bed and breakfast Santa Fe. Leaving  Pecos National Historical park, if you follow I-25 to Las Vegas (NM) you'll find Old West attractions to include period architecture, antique stores, restaurants and services, as well as the Rough Rider Museum. Las Vegas, NM is the epitome of the old west. The "Santa Fe ring" was a group of powerful attorneys and land speculators in this area of the United States during the late 19th century and into the early 20th century. It amassed a fortune through political corruption and fraudulent land deals. Hangings were commonly held on the historic Las Vegas plaza which is today conveniently located across from the historic Plaza hotel. We suggest stopping for an afternoon refreshment in the bar at the plaza or having a bite to eat at the nearby El Rillito salon on main street! Take NM 518
north to Storrie Lake which offers fishing, boating, and windsurfing- not a real scenic lake but water in New Mexico is precious and we're always grateful for it- anyway we can get it. NM 518 winds into tall mountains and has plenty of interesting stops in villages to take advantage of. La Cueva, NM is one of our favorites as it's home to Salmon Raspberry Ranch. The
Old La Cueva Mill is viewable with a maze of sandstone walls on the land behind the mill which once housed mill workers and their families.  NM 75 descends into the village of Penasco- an area rich in wildlife, vegetation and beauty. Take NM 76 back to US 85/285 and South to Santa Fe.  This day trip as described above is a "Day" trip, but can be dissected and enjoyed many an afternoon to completely enjoy all the elements available to the Santa Fe day trip traveler!
Each year on February 14th, many people envision an exchange of cards, candy, gifts or flowers with their specially loved "valentine" in celebration of Valentine's Day. But did you know that the day of romance we refer to as Valentine's Day is named for a Christian martyr and dates back to the 5th century? Or did you know that it's origin is in the Roman holiday Lupercalia? Possibly not. What you probably did know is it's a special day you set aside to let those we care for in an extra special way know they are …. well, "special", "loved", "cared for"! The means in which we show this sincere gesture of affection comes in many different forms. Maybe a card! Did you know that nearly 150 million cards are exchanged each Valentine's Day? Doesn't sound so special when you know that now – does it? How about chocolates?
Did you know more than 40,000 American are employed at chocolate companies? Well, that's a good reason to buy you sweetheart sweets … or is that the sentiment you want to convey? How about a poem that helps describe how you really feel? Did you know authors, poets and playwrights have been trying to capture love in words for thousands of years? Their work speaks to the enduring power of love across the ages of human history! Quotes about love come from some of the world's most famous romantics like Shakespeare, who wrote 154 sonnets dealing with love, time, beauty and mortality, to famed Chilean poet and diplomat Pablo Neruda. So how are you going top that? Well, maybe you can't, but you do need to try – don't let this opportunity, this special day set aside to specifically say what you want to say pass you by. Pick a card, chocolates, a poem or whatever – just make sure this special opportunity doesn't go without notice – Valentine's Day!
Things To Do For Valentine's Day In Santa Fe
We welcome all romantics, non-romantics and just plain nice folks to Pueblo Bonito b&b for Valentine's Day. Doesn't matter if it's the 14th or 12th or 18th of February – give the gift of yourself! Take time to be! Take time to be with that special someone – walk the historic streets of Santa Fe; take a ski day at Ski Santa Fe; climb into a cliff dwelling at Bandelier National Monument; hike the slot canyon of Tent Rocks
National Monument; explore Meow Wolf's exhibit or the Georgia O'Keeffe museum or whatever you want while taking time to be together in romantic Santa Fe! Cuddle up and watch the romantic flickering glow of your own in-room wood burning kiva fireplace at a 156 yr old historic adobe pueblo b&b- Pueblo Bonito b&b inn- in downtown Santa Fe! After all, there are so many things to do in Santa Fe, there's got to be something each of you would enjoy! Give us a call – let us help make your Valentine's Day memorable and fun – enjoy a night away at Pueblo Bonito b&b inn! +1 (800) 461-4599